Australia is one of the least populated countries on earth, but if your itinerary to the land down under sticks to capital cities like Sydney and Melbourne, you'll never really know it! I'm a huge advocate for visiting the stunning Kimberley Ranges in northern West Australia, not only for their spectacular scenery but also because of the importance of Indigenous culture and history to Australia.
If you do want to venture way off the beaten path and experience somewhere totally different, there is always the Aboriginal community of Kalumburu, one of Australia's most northern and remote communities, about 550km from Kununurra or 600km from Derby, with a population of about 400 permanent residents.
Why would you go?
If you are looking for excitement, your time is limited or you want to drink on your holiday, avoid Kalumburu. If you have a young family, I'd also avoid it. Kalumburu is a very interesting place, but it is a troubled place also. There is violence, widespread unemployment, and very poor conditions.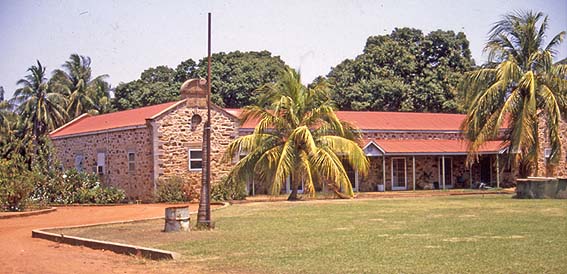 It does have a fascinating history and unspoilt landscapes, including beaches. The fishing is apparently brilliant. Kalumburu was the site of an airbase during WW2, which was bombed by the Japanese in 1943. There is also a Mission and museum with tours by Father Anscar which are highly regarded. It is open 8:30am – 11:30am each day and there are guided tours on Monday/Wednesday/Saturday.
Facilities are highly limited, but there is a small store which is open 7:30am – 4:00pm Monday – Friday, but closed from 12:30pm – 2pm for lunch. Saturdays, it is open 8am – 11am.
How to get there
Firstly, you will need permission to enter this closed community. You can find out more information or apply at the WA Department of Aboriginal Affairs. There website is here. You will also need a visitor's pass to stay in the community, which can be purchased at the Council Office. The fees regularly change, but the most up to date prices I can find state it is $50 per car.
There are only two ways to get to Kalumburu; light, chartered plane, or a seasonal 4WD track. I visited Kalumburu for work, so I took the former, and it was a very enjoyable experience, though I have been warned that it can be incredibly turbulent. Otherwise, the 4WD track is approximately 270km off the Gibb River Road, so you will probably need to be an experienced driver to do so. Also, keep in mind this frequently floods and is cut off during the wet season, making plane your only option.
Where to stay
You don't have many options, really! There's a few campsites; at the Kalumburu mission, or private beach camps like Honeymoon Bay or McGowan Island (click here for website). About one hour from Kalumburu is Drysdale Station, which is equipped to help travellers with petrol, meals or accommodation, as well as organise scenic flights and other activities (website is here). A day trip is also an option – there's really not that much to do.
Things to keep in mind
Kalumburu is a dry community – do

not

bring drugs or alcohol.
Health services are extremely limited in Kalumburu; if you think you may need medical attention, don't go.
Check the weather – when I was there in October, it was well over 45 degrees C.
Do not take any photographs, and if you must, make sure you ask if it is okay and respect people's wishes. Many Aboriginal people do not like having their photograph taken.
There's a very good description of how to drive to Kalumburu here: http://www.gibbriverroad.net/kalumburu-road.html